Proud to be included in SHOOT Magazine's 16th Annual New Directors Showcase! My short film "POISON" was showcased at the Director's Guild of America in New York, and I participated in an industry Q&A panel afterwards.
SHOOT's 2018 New Directors Showcase Reel Debuts; Work of 32 Individual Helmers, 1 Duo Celebrated At DGA Theatre — [ Read Full Article Here ]
"After the screening, SHOOT held the Meet the New Directors panel discussion in which four of the directors participated, all of whom are as of yet unaffiliated with a production company: Erica Eng, Shaya Mulcahy, Brad Raider and Brett Warkentien.
Eng earned inclusion for her short film Harold Gold's POISON and has come up the industry ranks with internships at Spyglass Entertainment and HSI Productions, serving as an assistant at PRETTYBIRD and as an executive assistant for filmmaker Michael Mann. She recently directed a spec commercial as a fellow of the CDDP. Eng was one of six promising talents selected from some 400 CDDP applicants to benefit from an industry workshop, mentorship and support in the making of a spec piece of their own choosing. Eng's spec PSA centers on Homebody Industries in Los Angeles, a rehab group which gives a second chance to gang members, ex-cons and others, putting them on a positive path to career advancement. Eng's piece focuses on acclaimed actor Richard Cabral (American Crime, Lethal Weapon), a Homebody alum."
4) What is the best part of being a director?
Everything. I love being creative and taking command on something I truly believe in. It's so incredible to be able to turn what's in my head into something people can actually see and enjoy. It's also freeing to know that I'm allowed to be completely wrong and say F— it! Sometimes little mistakes turn into something even better than what you originally planned. That's why I love art: it's fluid and never just one thing, it's always evolving. I would hate to do the same thing over and over again. With film, we get to think on our feet and make something cool happen by asking ourselves, what if?
5) What is the worst part of being a director?
Everything. I would say 90% of being a director is tough. You start off with a great idea. Then, you slowly run into roadblocks that frustrate you creatively, and you rigorously prep only for something to inevitably go wrong during the shoot. But then, at the end of the day you sit back and say - that was amazing, let's do it again! It's that 10% of feeling proud and fulfilled after a long shoot day that makes it all worth it.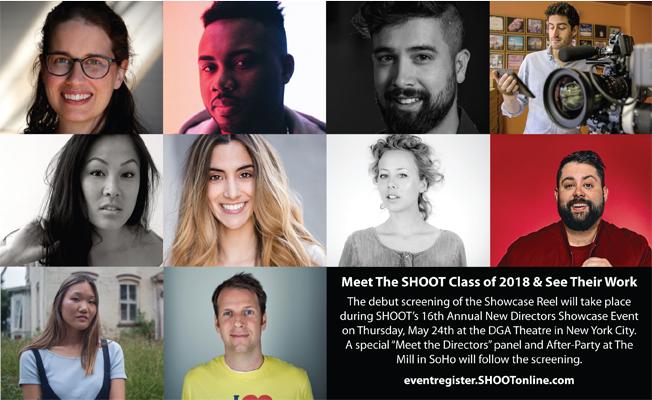 SHOOT® Magazine, the leading publication for commercial and entertainment production & post, today announced the names of the 33 directors / directing teams who made the final cut to be included in the SHOOT 2018 16th Annual New Directors Showcase.
The debut screening of the Showcase Reel will take place during SHOOT's Annual New Directors Showcase Event on Thursday, May 24th at the Directors Guild of America (DGA) in New York City. The event will kick off at 3:00PM with several panel discussions followed by the Showcase Reel Screening. After the Screening there will be a special "Meet the New Directors" Panel. The event concludes with a move down to Soho for the after-party at The Mill from 8:30-11:30PM.